Shopping Basket
Your Basket is Empty
There was an error with PayPal
Click here to try again
Thank you for your business!
You should receive an order confirmation from Paypal shortly.
Exit Shopping Basket
Dwint Family Health Care NP, PLLC
1665 Bedford Avenue, STE 2 111-56 76th Dr. STE, STE UL1
Broo​klyn, NY 11225 Forest Hills, NY 11375
Concierge Health & Wellness Provider
| | |
| --- | --- |
| Posted on 13 September, 2015 at 1:34 | |
Gynecologic cancers are the uncontrolled growth and spread of abnormal cells originating in the female reproductive organs, including:
 the cervix, ovaries, uterus, fallopian tubes, vagina and vulva. 
HPV is A very common infection which spread easily by skin-to-skin contact. High-risk types of genital HPV can cause cancer of the cervix, vagina, vulva, anus, penis, and throat. The type of cancer HPV causes most often is cervical cancer.
Prevent Getting or Spreading HPV? reduce your risk of Cervical and other cancers.
 Get the HPV vaccine. It can protect women against two of the HPV types that cause 70 percent of all cases of cervical cancer.
Abstain from sex play that involves skin-to-skin contact.
If you choose to have vaginal or anal intercourse, use condoms every time. They can reduce the risk of HPV.
There are five main types of Gynecologic Cancer: 
Cervical, ovarian, uterine, vaginal, and vulvar cancer are the five main types of Gynecologic Cancer. Signs and symptoms are not the same for everyone and each gynecologic cancer has its own signs and symptoms.
 
See symptoms chart for the five main gynecologic cancers below: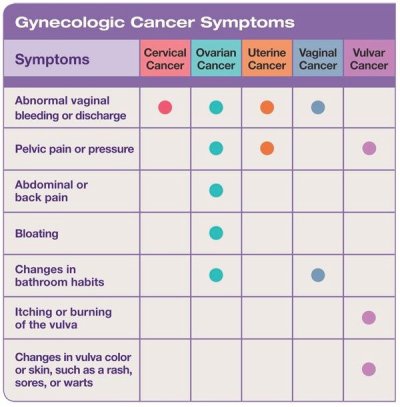 How are gynecologic cancers treated?
Gynecologic cancers are treated by using one or more of the following: surgery, radiation therapy and/or chemotherapy. The choice of therapy(s) depends on the type and stage of the cancer.

If you have vaginal bleeding that is unusual for you, see a doctor right away. If you notice any other unexplained signs or symptoms that last for two weeks or longer, talk to your doctor remember when gynecologic cancers are found and treated early, treatment works best.

Categories: Diseases
/