Shopping Basket
Your Basket is Empty
There was an error with PayPal
Click here to try again
Thank you for your business!
You should receive an order confirmation from Paypal shortly.
Exit Shopping Basket
Exclusive Health, Wellness and Prevention Service Provider
| | |
| --- | --- |
| Posted on 10 July, 2015 at 11:34 | |
Consult a doctor for a nosebleed if bleeding cannot be stopped, there is a large amount of blood lost, or you feel weak or faint.
Nosebleeds (epistaxis, nose bleed) can be dramatic and frightening. Most often they are considered to be a nuisance and not a true medical problem but, they can be both.  Nosebleeds are divided into two types, Anterior and Posterior.

1. Anterior nosebleeds The bleeding usually comes from a blood vessel at the very front part of the nose. Anterior nosebleeds are usually easy to control, either by measures that can be performed at home or by a doctor

2 .Posterior nosebleeds:  The bleeding usually comes from an artery in the back part of the nose. These nosebleeds are more complicated and usually require admission to the hospital and management by an otolaryngologist (an ear, nose, and throat specialist).
Nosebleeds are fairly common and most people will experience them every now and again. Anyone can get nosebleeds, The cause of most nosebleeds are unknown, but they may also result from trauma, medication use, tumors, or nasal/sinus surgery.  Common causes of nosebleed include:
Dry, heated, indoor air, which dries out the nasal membranes and causes them to become cracked or crusted and bleed when rubbed or picked or when blowing the nose..
Colds (upper respiratory infections) and sinusitis, especially episodes that cause repeated sneezing, coughing, and nose blowing.
Vigorous nose blowing or nose picking
The insertion of a foreign object into the nose
Injury to the nose and/or face
Allergic and non-allergic rhinitis (inflammation of the nasal lining)
Use of drugs that thin the blood (aspirin, non-steroidal anti-inflammatory medications, warfarin, and others)
Many nosebleeds can be treated at home, but some do require medical care. Holding pressure, nasal packing, chemical cautery, and use of nasal decongest sprays represent the first line of treatment for a majority of nasal bleeding. 
Here what you can do when there's a nosebleed!
Have the person sit up straight and lean forward slightly. Don't have the person lie down or tilt the head backward. By remaining upright, you reduce blood pressure in the veins of your nose. Sitting forward will help you avoid swallowing blood, which can irritate your stomach.
With thumb and index finger, firmly pinch the nose just below the bone up against the face. Use your thumb and index finger to pinch your nostrils shut. Breathe through your mouth. Continue to pinch for five to 10 minutes.Pinching sends pressure to the bleeding point on the nasal septum and often stops the flow of blood.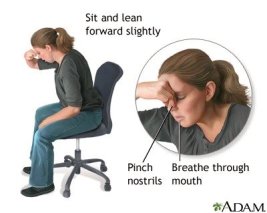 Apply pressure for 5  to 10 minutes. Time yourself with a clock.
If bleeding continues after 5 minutes, repeat the process. Once the bleeding stops, DO NOT bend over; strain and/or lift anything heavy; and DO NOT blow, rub, or pick your nose for several days.



Gently applying Vaseline or other ointment to the front of the nose with a Q-tip on a daily basis helps to moisturize the nose and prevent nose bleeds due to dryness. It is also very important to avoid any trauma to the nose after a nose bleed by picking healing scabs or blowing the nose too aggressively.




Consult a doctor for a nosebleed if bleeding cannot be stopped, there is a large amount of blood lost, or you feel weak or faint.










Categories: Condition

0

/