Shopping Cart
Your Cart is Empty
There was an error with PayPal
Click here to try again
Thank you for your business!
You should be receiving an order confirmation from Paypal shortly.
Exit Shopping Cart
Dwint Family Health Care NP, PLLC
1665 Bedford Avenue, STE 2 111-56 76th Dr. STE, STE UL1
Broo​klyn, NY 11225 Forest Hills, NY 11375
Concierge Health & Wellness Provider
| | |
| --- | --- |
| Posted on 25 June, 2014 at 21:41 | |
Eczema is a skin condition caused by inflammation. Atopic dermatitis is the most common of the many types of eczema. While the word "dermatitis" means inflammation of the skin, "atopic" refers to an allergic tendency, which is often inherited. If you have eczema, it is important to take good care of your skin. Take warm (not hot!) baths on a regular basis and immediately applying moisturizers afterward will help keep your skin moist. Also  in order for prescription medications to be most effective, a proper bathing and moisturizing regimen is required.
These eczema sufferers have a higher risk of developing other allergic conditions (like asthma or hay fever). Eczema is the term used to describe changes in the upper layer of the skin that include redness, blistering, oozing, crusting, scaling, thickening and sometimes pigmentation(although not all of these changes will necessarily occur together
Atopic eczema is the same as atopic dermatitis: Atopic eczema can affect any part of the skin, including the face, but the areas most commonly affected are the bends of the elbows and knees, and around the wrists and neck (a flexural pattern). 
No matter which part of the skin is affected, eczema is almost always itchy. Sometimes the itching will start before the rash appears, but when it does, the rash most commonly appears on the face, back of the knees, wrists, hands, or feet. It may also affect other areas as well.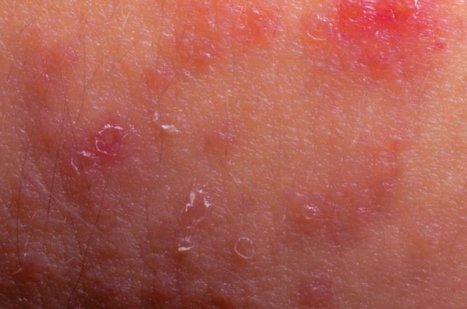 If you have eczema, when the eczema is very active (during a 'flare up);  it is likely your skin will be red and dry, and scratch marks (and bleeding) are common.
Other common appearances of atopic eczema include discrete coin-sized areas of inflammation (a discoid pattern), and numerous small bumps that coincide with the hair follicles (a follicular pattern).
 you may develop small water blisters on the hands and feet, or the affected areas of your skin may become moist and weepy. 
In areas that are repeatedly scratched, the skin may thicken up (a process known as lichenification), and become even more itchy. 
Affected areas usually appear very dry, thickened, or scaly. In fair-skinned people, these areas may initially appear reddish and then turn brown. Among darker-skinned people, eczema can affect pigmentation, making the affected area lighter or darker.Some people outgrow the condition while some people will continue to have it into adulthood.
To be rid of eczema you need a medical grade solution that quickly soothes the skin, prevents itching, kills bacteria and reduces the inflammation.  You must also avoid, when possible, whatever triggers the rash.
 Other Prevention methods include:
Moisturize every day.
Wear cotton or soft fabrics. Avoid rough, scratchy fibers and tight clothing.
Take lukewarm baths and showers, using mild soap or non-soap cleanser
Gently pat your skin dry with a soft towel – do not rub.
Apply a moisturizer within 3 minutes after bathing to "lock in" moisture.
When possible, avoid rapid changes of temperature and activities that make you sweat.
Learn your eczema triggers and avoid them.
Use a humidifier in dry or cold weather.
Keep your fingernails short to help keep scratching from breaking the skin.
If twice daily applications of 1% hydrocortisone cream (available without a prescription) are insufficient to control the rash, then you should see physcian.
If you are so uncomfortable that your sleep, work, or other daily activities are disrupted, you may need a more effective treatment and should see a health-care professional.
Categories: Condition
/